Realme Buds T100 TWS Earphone (RMA2109) – Black
Realme TechLife Buds T100 TWS Earbuds
AI Noise Cancellation for Calls
28 Hours of Total Playback
10mm Dynamic Bass Boost Driver
5.3 Bluetooth version
IPX5 Water Resistance
Description
10mm Dynamic Bass: Indulge into rich sound tones, clear vocals and enhanced bass with realme TechLife Buds T100 as they come with a 10mm dynamic bass driver.
AI ENC for Calls: The realme TechLife Buds T100 features AI ENC technology to eliminate background noise, so you can listen to music without being distracted by the surroundings.
28 Hours Total Playback: Whether you're watching your favourite shows, blazing through your playlist, or enjoying the outdoors, realme TechLife Buds T100 keeps you connected and comfortable all day long.
88ms Super Low Latency: With the realme TechLife Buds T100 precise audio and visual synchronization, you can play games in a fun way and switch on the gaming mode that allows you to play games with super low latency.
Real HD Sound: The realme TechLife Buds T100 provides "Studio-Level" sound. Experience Real HD sound on the realme Link App.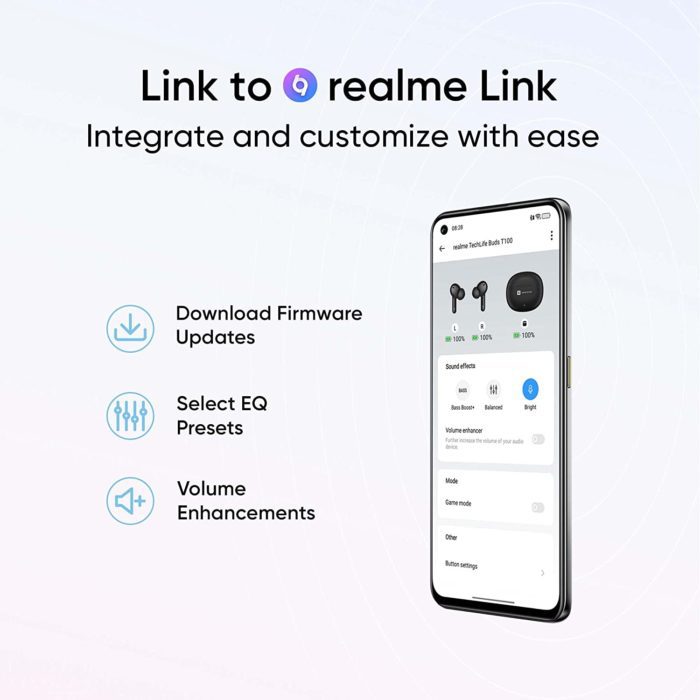 realme Link App: With realme Link, you'll be able to customize EQ settings, assign customized touch commands, and perform more tailored functions.
Delivery and return policy
Delivery Policy
Inside Dhaka Delivery: 
Delivery Charge 80 Taka Applicable. (Courier charge may differ based on package size and courier's  weight-based costing.)
Express Delivery within 24-48 hours!! Real time courier tracking and SMS confirmation.
Cash on Delivery (COD) and Home Delivery Available
Outside Dhaka Delivery: 
Full Pre-Payment required.
100 Taka basic Courier Charge (Courier charge may differ based on package size and courier's  weight-based costing.)
Fastest delivery within 48-72 hrs by Sundarbans Courier service anywhere in Bangladesh.
Return Policy
"Extreme Shop" is dedicated to provide a unique & delightful purchase experience for its customers. We  are hell-bound to ensure the highest quality & reliability for our customers. However, there might be  some inconsistencies. On seldom occasions, you may have to return an order.
Policies: 
1) If you received used product must notify in-front of delivery man.
2) If you received a physically damaged, faulty Product after opening package – (Must notify with 24  Hours inside Dhaka)
3) If you received a physically damaged from courier service (i.e Sundarban courier) you must need  video to show prove.
4) If the Product is completely different from the picture on the website (Must notify with 24 Hours)
5) Customer must have video proof of unboxing to file any complaint if the return is regarding product.  If there is any problem it has to be visible in the video. Without Unboxing video no complaint will be  considered.
Note: 
Product quality is up to manufacturer. As we're not the manufacturer you cannot return an item which  you're not satisfied with the quality.
We do not support software related issue (Bugs, improvements) these all out of our support policy.
1) You cannot return an item which wasn't intact and you break the seal.
2) No return or replacement applicable for flash deal or offer items products.
3) If you cancel order after dispatched, you must have to pay delivery charges. 4) We don't have any kind of exchange policy.
5) For the sake of minor mistakes in the products image, description, information, or illogical issue will  be simply ignored. These are all out of our support policy.
6) To return, customer must ensure the item is packed and delivered securely.
7) extremeshop.com.bd will not be held responsible if the goods get damaged on their return to  extremeshop.com.bd address.
8) For Inside Dhaka we request customers to come our offline shop that they can explain problem and  get prompt solution. This is mandatory depending on the problem.
9) For return you must have to courier it to our address within 48 hours.