Realme Buds Air 3 ANC Dual Connection TWS Earphone – Dark Blue / Nitro Blue
Colors:Starry Blue
Resistance:32Ω
Charge Port:USB Type-C
Charging:USB Type-C Wired Charging
Charging Box Input:5V/0.7A(MAX)
Wireless Connect:Bluetooth 5.2
Audio codecs:AAC, SBC
Working Distance:10m
Water resistance rating:IPX5 (earbuds only)
Description
 42dB Active Noise Cancellation | 30hrs total playback | 10mm Dynamic Bass Boost driver
IPX5 water resistance | Airy Design | 10 min charge for 100 min of playback
Transparency Mode | Customized audio tuning
 *To get the best noise cancellation effect, please choose the right size ear caps.
*Industry-leading refers to reaching the industry-leading level in true wireless headphones.
The higher the dB value, the higher the level of noise cancellation.
 High noise-cancelling performance
Certified by TÜV Rheinland
 30 hours of music Press play for the whole day*
22 hrs Noise Cancellation On/Transparency Mode Buds Air 3 & charging case
5.5 hrs Noise Cancellation On/Transparency Mode Buds Air 3 only
30 hrs Normal Mode Buds Air 3 & charging case
10 minutes charge = 100 minutes listening *With Normal Mode
 Expertly tuned for punchy bass
We invited a team of audio tuning experts to develop a unique DBB compound bass enhancement program.
The result is booming bass, rich in detail for a concert-like experience.
To take your audio quality to the next level, use the Buds Air 3 with Dolby sound on your realme smartphone.
 Audio tuning customized exclusively for you
Creates a customized profile for an audio experience tailored to the specific sensitivity of your ears.
 Stay in the hear and now with 88ms super low latency
With Game Mode activated, latency can be as low as 88ms.
Whether you're watching movies or gaming, you can count on super synchronized audio and video.*
 SWITCH IT UP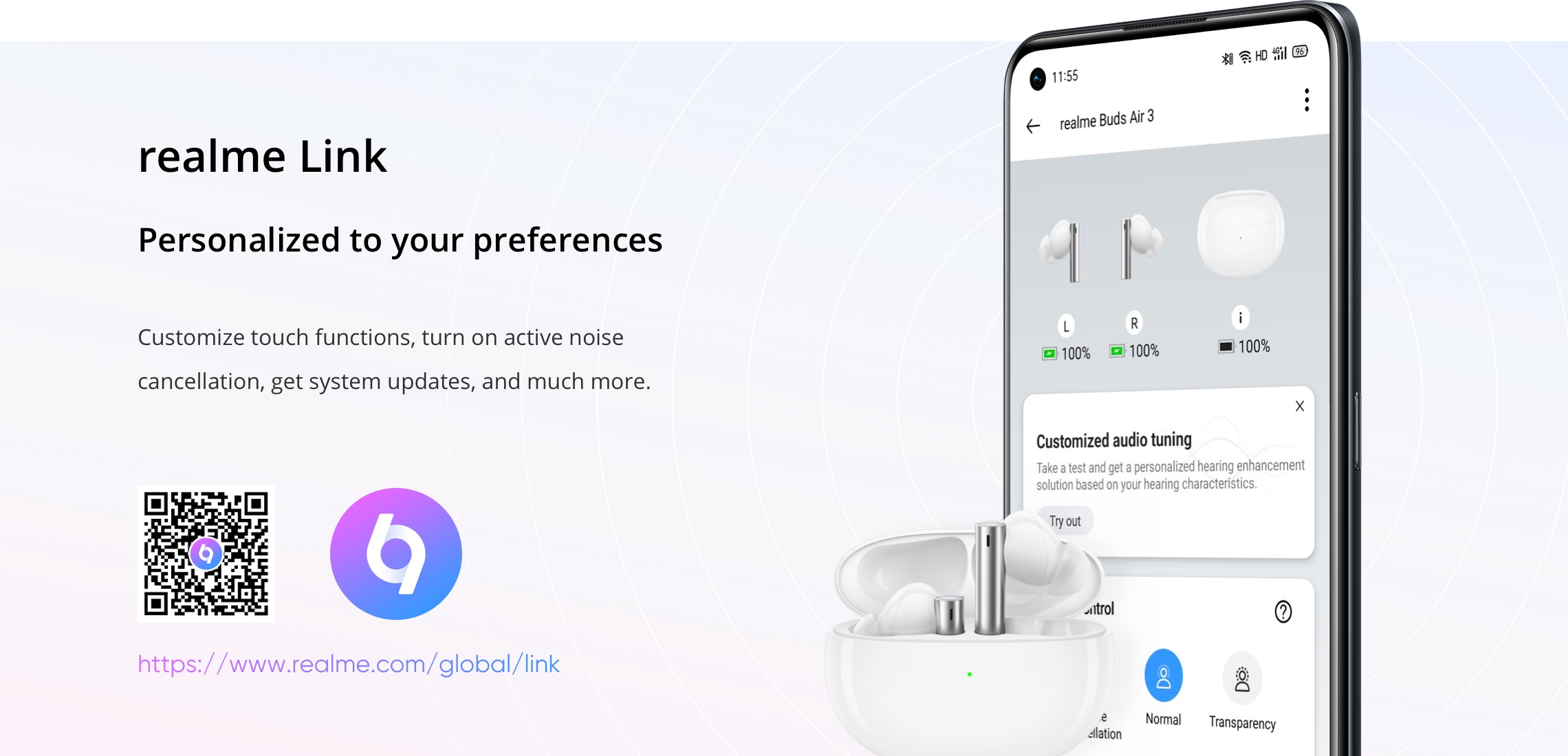 In The Box
Earbuds ×2 (left ×1 and right ×1)/Type-C charging cable x1
Charging case ×1/User guide and warranty card ×1
Silicone earbud tips: 3 pairs (L/M/S) (M tips installed by default)/Info card ×1
Delivery and return policy
Delivery Policy
Inside Dhaka Delivery: 
Delivery Charge 80 Taka Applicable. (Courier charge may differ based on package size and courier's  weight-based costing.)
Express Delivery within 24-48 hours!! Real time courier tracking and SMS confirmation.
Cash on Delivery (COD) and Home Delivery Available
Outside Dhaka Delivery: 
Full Pre-Payment required.
100 Taka basic Courier Charge (Courier charge may differ based on package size and courier's  weight-based costing.)
Fastest delivery within 48-72 hrs by Sundarbans Courier service anywhere in Bangladesh.
Return Policy
"Extreme Shop" is dedicated to provide a unique & delightful purchase experience for its customers. We  are hell-bound to ensure the highest quality & reliability for our customers. However, there might be  some inconsistencies. On seldom occasions, you may have to return an order.
Policies: 
1) If you received used product must notify in-front of delivery man.
2) If you received a physically damaged, faulty Product after opening package – (Must notify with 24  Hours inside Dhaka)
3) If you received a physically damaged from courier service (i.e Sundarban courier) you must need  video to show prove.
4) If the Product is completely different from the picture on the website (Must notify with 24 Hours)
5) Customer must have video proof of unboxing to file any complaint if the return is regarding product.  If there is any problem it has to be visible in the video. Without Unboxing video no complaint will be  considered.
Note: 
Product quality is up to manufacturer. As we're not the manufacturer you cannot return an item which  you're not satisfied with the quality.
We do not support software related issue (Bugs, improvements) these all out of our support policy.
1) You cannot return an item which wasn't intact and you break the seal.
2) No return or replacement applicable for flash deal or offer items products.
3) If you cancel order after dispatched, you must have to pay delivery charges. 4) We don't have any kind of exchange policy.
5) For the sake of minor mistakes in the products image, description, information, or illogical issue will  be simply ignored. These are all out of our support policy.
6) To return, customer must ensure the item is packed and delivered securely.
7) extremeshop.com.bd will not be held responsible if the goods get damaged on their return to  extremeshop.com.bd address.
8) For Inside Dhaka we request customers to come our offline shop that they can explain problem and  get prompt solution. This is mandatory depending on the problem.
9) For return you must have to courier it to our address within 48 hours.
Related products