Kieslect Ks Calling Smartwch
Kieslect Ks  Calling Smart Watch
Bluetooth Calling
Ultra AMOLED Display
Brightness : Up to 1000 nit
Battery Capacity : 330mAh
AI Voice Assistant
1 Year Brand Warranty
Out of stock
Description
Thanks to the robust design of the speaker and microphone, the Kieslect Smart Calling KS enables clear and quality Bluetooth phone calls wherever and whenever!
The design with a large 1,78″ Ultra AMOLED screen with a touch-sensitive color resolution of 368 x 448 pixels and 1000 nits of brightness.
Al built-in assistant, playing music.
For many users, the most important part of the new smartwatch is its autonomy, so it comes with a battery of 330 mAh, which will keep you awake for up to 20 days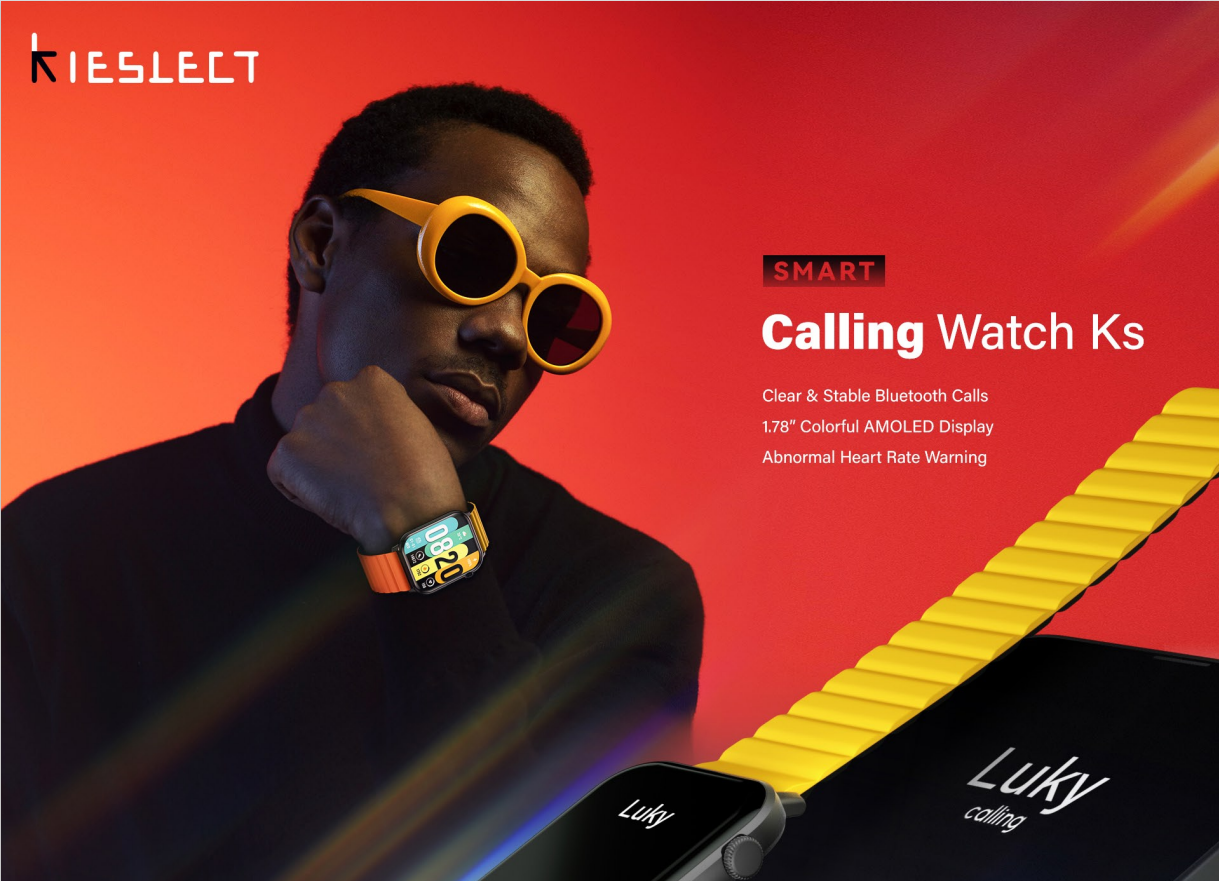 Kieslect Ks provides Stable Bluetooth Calls. Boosting a powerful two-in-one calling chip and stable 5.2 Bluetooth connection, Ks provides you a stable, clear, and good sound quality phone calls at any time and anywhere. Conveniently receive & reject phone calls, dial out, and store up to 100 contacts on your Kieslect Kr Pro.
Alarms, Events, Timers, and More
The Kieslect Ks can proficiently handle your personal agendas, notify you of incoming calls or messages, and provide movement reminders when you have been sitting for too long. The watch will also track your events and offers Do Not Disturb, stopwatch, sedentary reminder, find mobile phone, flashlight, exercise record, and weather forecast functions, as well as enable the setting of alarms and timers.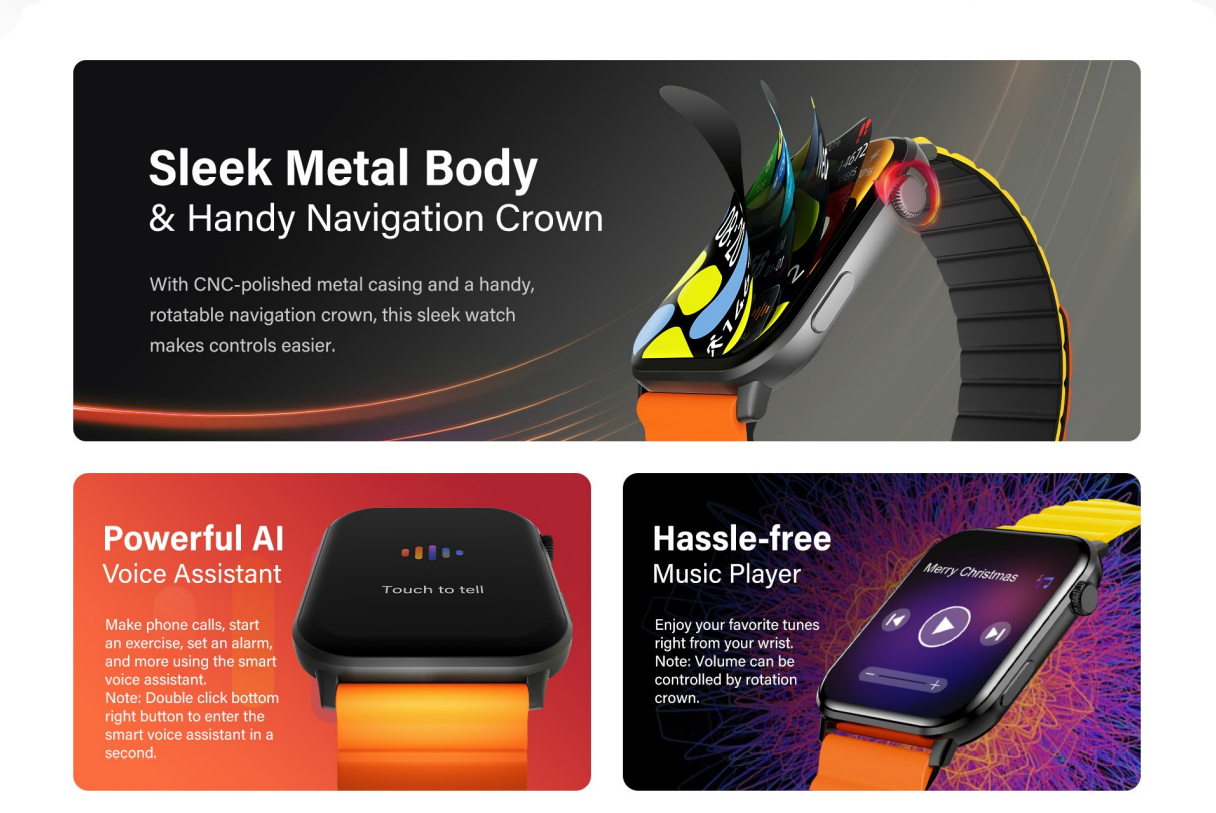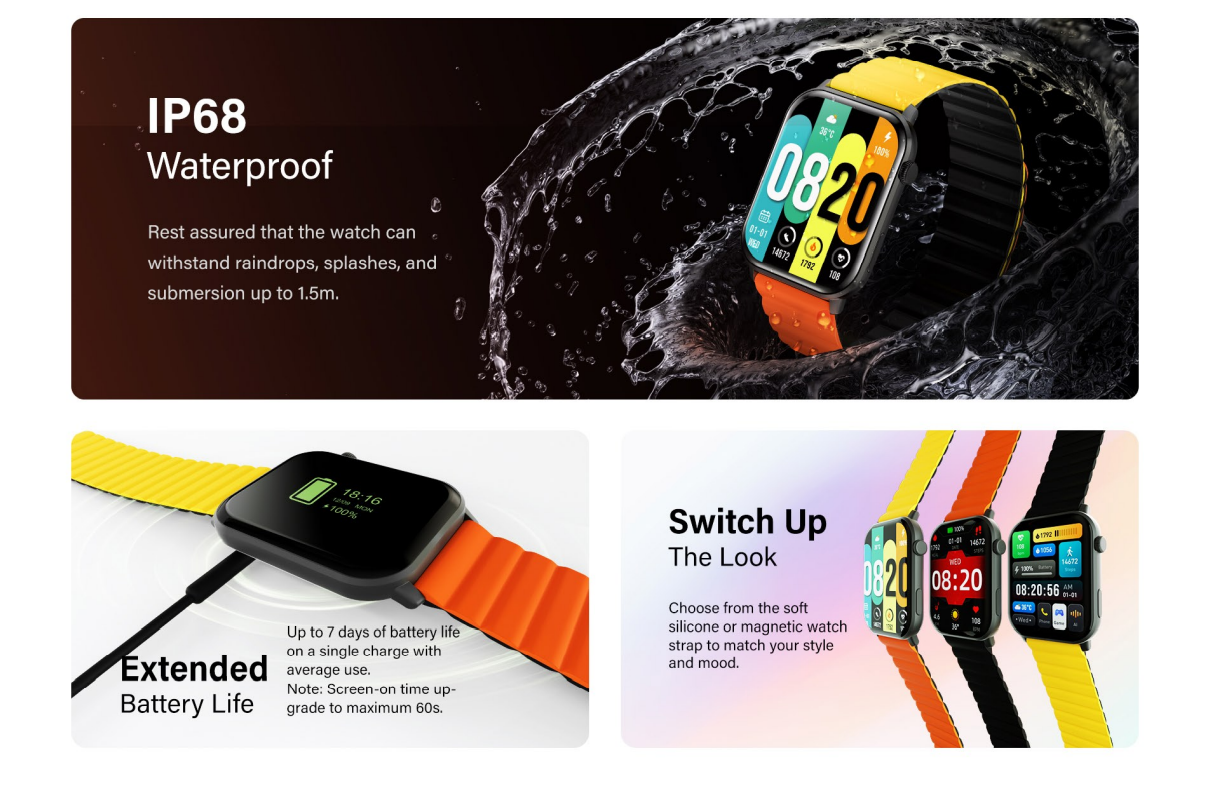 Specification of Kieslect Ks  Calling Smart Watch
Design
Color : Seven Color Combinations
Proportion :  44.2×35.9×11.8 mm
Weight : 44.5g Without Strap and 54.5g With Strap
Body Material : Metal
Buttons : 2
Water Resistance : IP68, Pool Swimming
Display
Material :  Ultra AMOLED Display
Size : 1.78″
Resolution : 368×448 Pixels
Brightness : Up to 1000 nit
Always-on Display :  Yes
Battery
Battery Capacity : 330mAh
Theoretical Charging Duration : Approx. 2 Hours
Typical Usage Scenario : 5-7 Days Battery Life
Battery Saver Mode : Up to 20 Days Battery Life
Other
Fitness Tracker : Sleep Quality
(G-Sensor) : 24H Heart Rate Monitor, Sp02 Monitor, Breath Training Connection
Connection :  Bluetooth 5.2
Microphone : Yes
Speaker : Yes
Sports Mode : 100
System : IOS 9.0+ Android 5.0
Sports Mode
Workout Modes are Running, Cycling, Skipping, Badminton, Table Tennis, Tennis, Alpinism, Walking, Basketball, Football, Baseball, Volleyball, Cricket, Rugby, Hockey, Spinning Bike, Yoga, Sit-ups, Gymnastics, Boating, Jumping Jack, Integrated Training, Indoor Run, Strength Training, Step Training, Horse Riding, Elliptical Trainer, Tai Chi, Shuttlecock, Outdoor Walk, Trail Running, Skiing, Ice Hockey, Taekwondo, Rowing Machine, Air Walker, Athletics, Waist Training, Karate, Pilates, Latin Dance, Street Dance, Ballet, Martial Arts, Stairs, Handball, Bowling, Racquetball, Curling, Fishing, Disc Sports, Golf, Folk Dance, Skating, Aerobics, Lacrosse, Softball, Hula Hoop, Darts, Pickleball, Trampoline, Skateboarding, Parkour, Pull-up, Push-up, Planking, Rock Climbing, High Jump, Long Jump.
Delivery and return policy
Delivery Policy
Inside Dhaka Delivery: 
Delivery Charge 80 Taka Applicable. (Courier charge may differ based on package size and courier's  weight-based costing.)
Express Delivery within 24-48 hours!! Real time courier tracking and SMS confirmation.
Cash on Delivery (COD) and Home Delivery Available
Outside Dhaka Delivery: 
Full Pre-Payment required.
100 Taka basic Courier Charge (Courier charge may differ based on package size and courier's  weight-based costing.)
Fastest delivery within 48-72 hrs by Sundarbans Courier service anywhere in Bangladesh.
Return Policy
"Extreme Shop" is dedicated to provide a unique & delightful purchase experience for its customers. We  are hell-bound to ensure the highest quality & reliability for our customers. However, there might be  some inconsistencies. On seldom occasions, you may have to return an order.
Policies: 
1) If you received used product must notify in-front of delivery man.
2) If you received a physically damaged, faulty Product after opening package – (Must notify with 24  Hours inside Dhaka)
3) If you received a physically damaged from courier service (i.e Sundarban courier) you must need  video to show prove.
4) If the Product is completely different from the picture on the website (Must notify with 24 Hours)
5) Customer must have video proof of unboxing to file any complaint if the return is regarding product.  If there is any problem it has to be visible in the video. Without Unboxing video no complaint will be  considered.
Note: 
Product quality is up to manufacturer. As we're not the manufacturer you cannot return an item which  you're not satisfied with the quality.
We do not support software related issue (Bugs, improvements) these all out of our support policy.
1) You cannot return an item which wasn't intact and you break the seal.
2) No return or replacement applicable for flash deal or offer items products.
3) If you cancel order after dispatched, you must have to pay delivery charges. 4) We don't have any kind of exchange policy.
5) For the sake of minor mistakes in the products image, description, information, or illogical issue will  be simply ignored. These are all out of our support policy.
6) To return, customer must ensure the item is packed and delivered securely.
7) extremeshop.com.bd will not be held responsible if the goods get damaged on their return to  extremeshop.com.bd address.
8) For Inside Dhaka we request customers to come our offline shop that they can explain problem and  get prompt solution. This is mandatory depending on the problem.
9) For return you must have to courier it to our address within 48 hours.